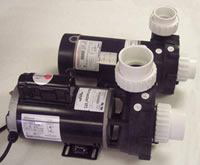 Spa Plumbing
At Futura Spas, it's the performance that matters. If the jet pump power is not balanced with the jet count, you can have too many jets and not enough pressure to deliver the effective relief you need. Or if the motor is oversized, back pressure on the pump could cause premature failure. We ensure the proper balance in each and every Futura Spa model. Whether there are a few jets in just the right positions, or over 100, the performance is relaxing, healing and something you will look forward to each day.
The fluid dynamic design of Futura Spas hot tubs takes into account every aspect of the design. From the suctions where the water enters into the system, to the friction created by the plumbing fittings, everything is figured into the design.
Powering our spas are 56 frame ultra high-flow pumps. Specially built to our design specifications, these pumps move more water with less power than the competition.