MP-88 Seven Foot Spa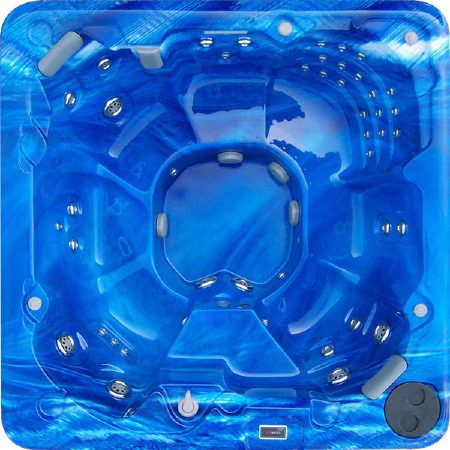 This spa is a seven foot state of the art spa offers 88 various style hydrotherapy jets. Its two pump, ten horsepower, single valve power plant provides tri-zone hydrotherapy. Throughout our unique eight person shell design are various style bucket seats with neck therapy, and three varying height jump seats for a complete back massage. A unique corner cuddler seat provides the ultimate spa experience. The power plant footwell, designed to soothe sore calves and feet, is guaranteed to provide universal comfort for all. Cathedral staircase provides easy access in and out of the spa and can be used as a warm up and cool down seat, giving this spa room for eight. Combine all of this with our maintenance free Permawood Cabinet, ThermoService® Foam Insulation System, and Lucite® acrylic for the ultimate 21st Century Spa.
Hot Tub Specifications
Seating Capacity
8 Adults
Dimensions
82" x 82" x 35"
Water Capacity
425 gallons
Weight
645 lbs. dry; 4,190 lbs. filled
Pumps
2 Ultra High Flow
1 single-speed 6 Hp, 1 dual-speed 4 Hp
Controls
Programmable Digital Top Side Control
Filter
50 sq. ft. Pressurized
Ozonator
Delzone™ Corona Discharge Ozone System
Water Feature
Waterfall with On/Off Valve
Lighting System
12 Bulb Multi Colored LED Light
Insulating Cover
4"to 2" tapered, 2 lb.-density foam core
Electrical Requirements
240 Volt 50 Amp 50Hz